This is a great trip, especially in an R44. It's good if you want to cover some serious miles, and cross some water, without actually going foreign. So quite good practise if you are contemplating a really long helicopter expedition for the future, or if you're just in the mood for some helicopter tourism.
I recommend taking a long weekend over it. I have done it all in one day, with a TV chef on board, but that's another story.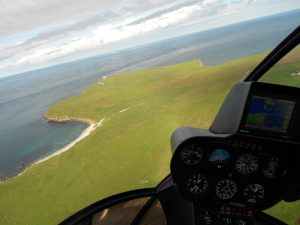 If you are coming from down south, I suggest starting on the Friday evening, and stopping off at one of my favourite hotels, the Ednam House. Check they're happy to have you landing on the front lawn before setting off. Watch out for their garden furniture, though.
Then next morning, with lifejackets on for the Firth of Forth crossing, refuel at Fife Airport, and head on up to Wick, refuelling at the airport there if you need to. That fuelstop is not so much about whether you're short of fuel right now, more about how far it is to the next available fuel on your route ahead. Airfields are a bit few and far between in the Highlands. Check out the ruined Keiss Castle on the cliffs just north of Wick, on your way up to John O'Groats.
From there it's a choice, of round the NW coast via the Kyle of Lochalsh, or cross country all the way down Loch Ness, to refuel at Oban. Check your fuel endurance and diversion options carefully when planning this. By this time you may well have had enough for the day, so it's land for the night at the Glenfinnan House Hotel.
Next morning, and it may have to be quite an early start, after really really good daily check it's over to the Isle of Man for the sea crossing experience to land at Ronaldsway (EGNS), if the weather is up to it.
From there it's another sea crossing to coast in on the North Wales coast, passing Snowdonia (worth a diversion of the weather is benign). The destination at this point is the helipad next to the hotel on Lake Vyrnwy for a late lunch, with a quick refuel at Welshpool either before or afterwards.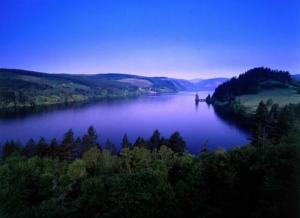 From here, it's pretty much due south towards Land's End airport,for fuel, a leg which includes a surprisingly long sea crossing.
The Whitesands Hotel at Sennen Cove offers to put you up in rooms or yurts in the garden, so makes a fun stop-over.
Monday is a lazy breakfast before repositioning the helicopter back home. Depending where you are heading, you have a choice of coastlines to follow.
Like all long trips, the key to this is in the planning. Fuel and oil availability, diversion options, daylight timings, frequencies, airspace, leg lengths and timings, money, meals, in-cab snacks and water, accommodation, landing sites suitability; all this needs to be worked out in advance if you're to be sure of staying safe, dry and legal. The planning is all part of the fun, of course, and having an instructor on hand, especially one who has considerable experience of expedition flying, is really reassuring.