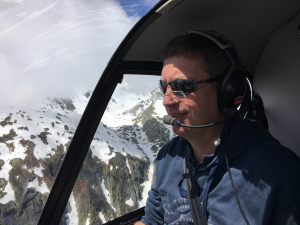 Once you're qualified, I can offer further training to help you make the most of your PPL(H), drawing on my many years flying helicopters in the UK, Europe and around the world.
With helicopters offering so many opportunities for exploring otherwise inaccessible places, I run "discovery trips" around Europe. Bring your own machine, or rent one to share with others, and I'll help you enjoy the possibilities to the full. I know some exciting helicopter-friendly places to stay in extraordinary places, which I can book ahead.
I've recently run two successive John O'Groats to Land's End heli trip in two R44s, a trip from the French Alps back to the UK, a Swiss Alpine tour for two British customers, and I have more in the pipeline.
I have been flying since 1984, and have flown throughout the UK, Europe, all the way down the west coast of the USA, and even from the UK to Australia following the Amy Johnson route. I now hold an EASA commercial licence with a Flight Instructor rating on R22 and R44, and am based in Switzerland.